About Shredder for smartcards EBA 0103 SCD:
High performance high-security-shredder for smart cards, magnetic stripe cards and optical data medias. High-quality cutting head with 2.2 x 4 mm particle size for high security needs according to German BSI – TL 03420 and North American NSA/CSS 04-02 requirements (particle size ≤ 10 mm2 ), which corresponds to security level T-6 standard for magnetic cards, E-5 for cards with an electronic chip and O-5 for optical data medias like CDs and DVDs (all security levels according to DIN 66399). Impressive shred speed guarantees high shred performance of up to 2,500 data medias per hour (one by one feeding). Solid steel cutting shafts from special hardened steel. SPS – (Safety Protection System) package: electronically controlled safety flap in the feed opening with specially designed feed slot to accept optical media and to prevent "fly back"; automatic reverse and power cut-off (to prevent jams); automatic stop if the collection bin is full; electronic door protection via a magnetic proximity switch; double motor protection; energy saving mode. Multifunction control element EASY_SWITCH with integrated optical indicators for the operational status of the shredder. Automatic start and stop via a photo cell. ECC – Electronic Capacity Control: indication of the used shred capacity during shredding process. Automatic oil injection on the cutting shafts during shredding operation for constantly high shred performance. Powerful motor for continuous operation. Sturdy chain drive and fully closed gear box housing. High-quality wooden cabinet, mobile on castors. Antistatic collection bin made of an impact resistant plastic material. Quality "Made in Germany".
Features: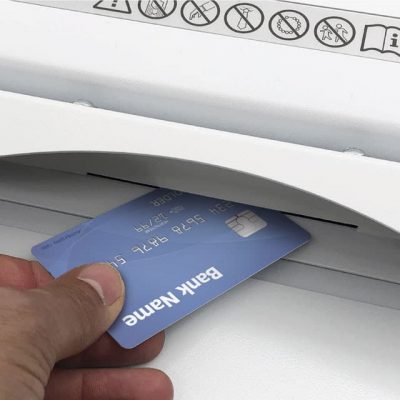 Safety flap with feed slot:
A high safety standard is guaranteed by the electronically secured safety flap with feed slot (one by one feeding). The flap is part of SPS safety package.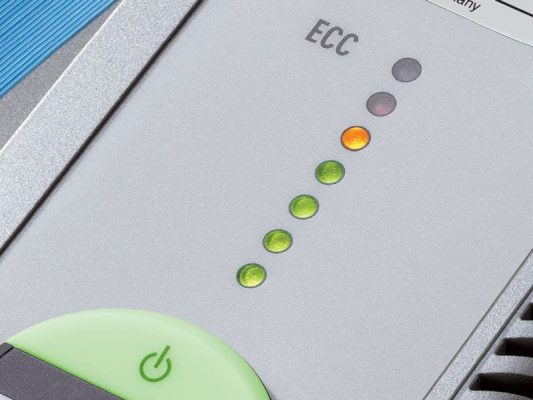 Robust shredding heads:
Complete lever arch files including metal components can be shredded due to the high-quality, tempered steel cutters.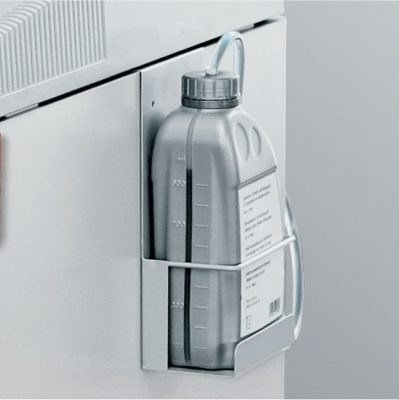 Electronic oil injection:
The automatic oil injection system ­lubricates the cutting shafts when ­shredding and guarantees a constantly high shred performance.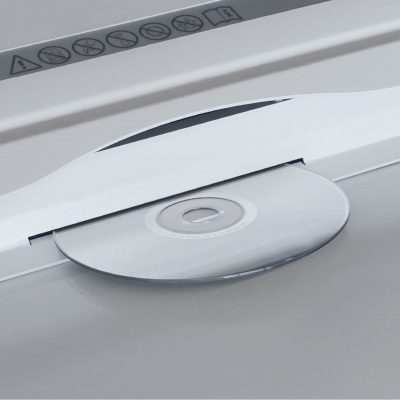 CDs, DVDs, BLU-RAYs.
The EBA 0103 SCD destroys optical data media of diameter up to 12 cm reliably, safely and quickly.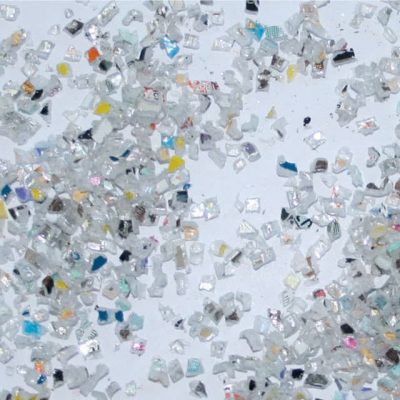 Particle size 2.2 X 4 mm:
Each CD or DVD is turned into approx. 1,200 small particles of 2.2 x 4 mm in size. The picture shows the original particle dimensions of 2.2 x 4 mm.