FEATURES
Similar in size to Series 2 dial indicators.
As compact as standard Series 2 dial indicators.
Large, easy-to-read LCD.
GO/±NG judgment can be performed by setting upper and lower tolerance limits. The judgment result (GO/±NG) can be displayed in full-size characters.
The positive/negative count resulting from the spindle's up/down movement can be toggled.
Internal calculations using the simple formula of [F(x)=Ax)] are available
Employing the ABSOLUTE linear encoder, the ID-C always displays the spindle "Absolute Position" from the origin at power-on. Also unlimited response speed eliminates over-speed errors.
The ID-C indicator face can be rotated 330° to an appropriate angle for easy reading.
With SPC data output.
Technical Data
Accuracy: Refer to the list of specifications.
Resolution: 0.01mm, 0.001mm, .0005″/0.01mm, .0001"/0.001mm or .00005"/0.001mm
Display: LCD
Length standard: ABSOLUTE electrostatic capacitance type linear encoder
Max. Response speed: Unlimited
Measuring force: Refer to the list of specifications
Battery: SR44 (1 pc.), 938882
Battery life: Approx. 5,000 hours under normal use
Dust/Water protection level: IP42 or IP53 (dust-proof type)
Function
Origin-set/Preset, Zeroset, GO/±NG judgment, Counting direction switching, Power ON/OFF, Data output, inch/mm conversion (on inch/metric models only)
Alarm: Low voltage, Counting value composition error, Over-flow error, Tolerance limit setting error
Internal calculations using the simple formula of [F(x)=Ax)] are available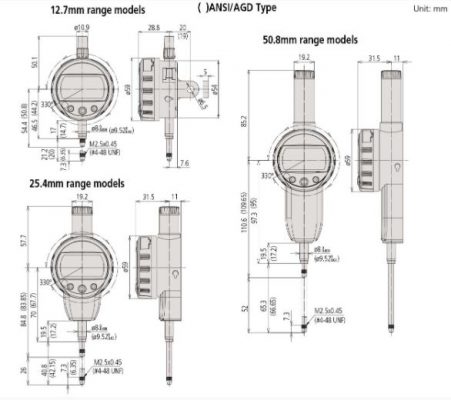 Metric
Order No
Model
Resolution *Switchable
Range
Contact Point
Accuracy
Measuring Force
Type
Remarks
543-390
ID-C112X
*0.01mm
0-12.7mm
Stem Ø8mm
M2.5 x 0.45 Thread
0.003mm
Less than
1.5N
ISO/JIS
–
543-390B
ID-C112X
*0.01mm
0-12mm
Stem Ø8mm
M2.5 x 0.45 Thread
0.003mm
Less than
1.5N
ISO/JIS
–
543-394
ID-C112CX
*0.01mm
0-12mm
Stem Ø8mm
M2.5 x 0.45 Thread
0.003mm
Less than
0.4, 0.6, 0.7N
ISO/JIS
Low measuring force
543-394B
ID-C112CX
–
0.01mm
0-12mm
Stem Ø8mm
M2.5 x 0.45 Thread
0.003mm
Less than
0.4, 0.6, 0.7N
ISO/JIS
Low measuring force
543-400
ID-C1012X
0.01mm
0-12mm
Stem Ø8mm
M2.5 x 0.45 Thread
0.02mm
Less than
0.9N
ISO/JIS
–
543-400B
ID-C1012X
–
0.01mm
0-12mm
Stem Ø8mm
M2.5 x 0.45 Thread
0.02mm
Less than
0.9N
ISO/JIS
–
543-404
ID-C1012CX
0.01mm
0-12mm
Stem Ø8mm
M2.5 x 0.45 Thread
0.02mm
Less than
0.2, 0.3, 0.4, 0.5N
ISO/JIS
Low measuring force
543-404B
ID-C1012CX
0.01mm
0-12mm
Stem Ø8mm
M2.5 x 0.45 Thread
0.02mm
Less than
0.2, 0.3, 0.4, 0.5N
ISO/JIS
Low measuring force
543-470B
ID-C125XB
*0.01mm
0-25mm
Stem Ø8mm
M2.5 x 0.45 Thread
0.003mm
Less than
1.8N
ISO/JIS
–
543-474B
ID-C1025XB
0.01mm
0-25mm
Stem Ø8mm
M2.5 x 0.45 Thread
0.03mm
Less than
1.8N
ISO/JIS
–
543-490B
ID-C150XB
–
*0.01mm
0-50mm
Stem Ø8mm
M2.5 x 0.45 Thread
0.006mm
Less than
2.3N
ISO/JIS
–