FEATURES
IP65 water/dust protection (324 series).
Measures over-pin diameter of gears with precision steel (carbide) ball-tipped measuring faces.
With a standard bar except 0-25mm and 0-1" model
Interchangeable ball anvil-spindle tips for various gear modules (0.5 – 5.25) are optional.
With Ratchet Stop for constant force.
With SPC output (Series 324).
Supplied in fitted plastic case (models over 150mm supplied in wooden case).
Technical Data
Accuracy: Refer to the list of specifications
Resolution*:0.001mm or .00005″/0.001mm
Graduation**: 0.01mm
Display*: LCD
Battery*: SR44 (1 pc.), 938882
Battery life*: Approx.1.2 yrs under normal use
Dust/Water protection level*: IP65
*Digital models **Analog models
Function of Digital Model
Zero-setting, Data hold, Data output, Preset, inch/mm
conversion (inch/mm models)
Alarm: Low voltage, Counting value composition error
Function Lock
2 Presets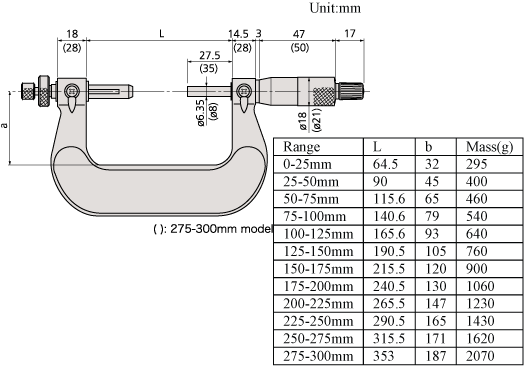 Metric
| | | | | |
| --- | --- | --- | --- | --- |
| Order No | | Range | Accuracy | Mass |
| 124-173 | – | 0-25mm | ±4um | – |
| 124-174 | – | 25-50mm | ±4um | – |
| 124-175 | – | 50-75mm | ±4um | – |
| 124-176 | – | 75-100mm | ±4um | – |
| 124-177 | – | 100-125mm | ±5um | – |
| 124-178 | – | 125-150mm | ±5um | – |
| 124-179 | – | 150-175mm | ±6um | – |
| 124-180 | – | 175-200mm | ±6um | – |
| 124-181 | – | 200-225mm | ±6um | – |
| 124-182 | – | 225-250mm | ±7um | – |
| 124-183 | – | 250-275mm | ±7um | – |
| 124-195 | – | 275-300mm | ±7um | – |
| 324-251-30 | – | 0-25mm | ±4um | 400g |
| 324-252-30 | – | 25-50mm | ±4um | 490g |
| 324-253-30 | – | 50-75mm | ±4um | 530g |
| 324-254-30 | – | 75-100mm | ±4um | 600g |