FEATURES
The anvil and the spindle have a blade for measuring
the groove diameter of shafts, keyways, and other hard-to-reach areas.
With Ratchet Stop for constant force.
Speedy spindle feed of 10mm / .4"/rev. (Quickmike type).
With a standard bar except 0 -25mm and 0 – 1" model.
Supplied in fitted plastic case.
Technical Data
Accuracy: Refer to the list of specifications.
Resolution*: 0.001mm or .00005″/0.001mm
Graduation**: 0.01mm or .0001″
Parallelism: 3ìm / .00012" for models up to 75mm / 3"
(3+R/100)ìm for models over 75mm,
R=max. range (mm) .00016" for 4" models
Display*: LCD
Battery*: SR44 (1 pc.), 938882
Battery life*: Approx. 1.2 years under normal use
*Digital models **Analog models
Function of Digital Model
Origin-set, Zero-setting, Data hold, Data output, inch/mm
conversion (inch/mm models)
Alarm: Low voltage, Counting value composition error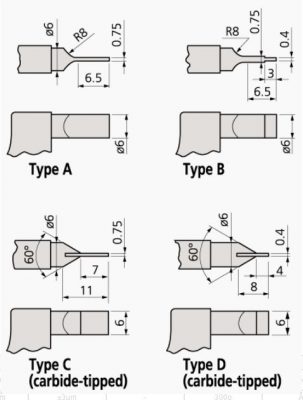 Metric
| | | | | | | |
| --- | --- | --- | --- | --- | --- | --- |
| Order No | Image | Range | Accuracy | Remarks | Mass | Type |
| 122-101 | | 25-50mm | ±3µm | – | 260g | A |
| 122-102 | – | 50-75mm | ±3µm | – | 300g | A |
| 122-103 | – | 75-100mm | ±3µm | – | 360g | A |
| 122-104 | – | 75-100mm | ±4µm | – | 525g | A |
| 122-105 | – | 100-125mm | ±4µm | – | 670g | A |
| 122-106 | – | 125-150mm | ±4µm | – | 775g | A |
| 122-107 | – | 150-175mm | ±5µm | – | 950g | A |
| 122-108 | – | 175-200mm | ±5µm | – | 1140g | A |
| 122-111 | – | 0-25mm | ±3µm | – | 260g | B |
| 122-112 | – | 25-50mm | ±3µm | – | 300g | B |
| 122-141 | – | 0-25mm | ±3µm | – | 275g | D |
| 122-142 | – | 25-50mm | ±3µm | – | 315g | D |
| 122-161 | – | 0-25mm | ±3µm | – | 275g | C |
| 122-162 | – | 25-50mm | ±3µm | – | 315g | C |
| 422-230 | – | 0-25mm | ±3µm | Digital model | 365g | A |
| 422-232 | | 50-75mm | ±3µm | Digital model | 465g | A |
| 422-233 | – | 75-100mm | ±4µm | Digital model | 580g | A |
| 422-260 | – | 0-25mm | ±3µm | Digital model | 365g | B |
| 422-261 | – | 25-50mm | ±3µm | Digital model | 565g | B |
| 422-270-30 | – | 0-25mm | ±3µm | Digital model | 365g | C |
| 422-271-30 | – | 0-25mm | ±3µm | Digital model | 365g | D |
| 422-411 | | 0-30mm | ±3µm | Quickmike Type | 350g | – |
| 422-412 | – | 25-55mm | ±3µm | Quickmike Type | 490g | – |