FEATURES
Designed to measure the wall thickness of various tubing.
The Tube Micrometers have two combinations of measuring faces (carbidetipped): spherical-flat type, and spherical type.
Cylindrical anvils (perpendicular) are also available.
With Ratchet Stop for constant force.
With SPC output (Series 395).
With digit counter (Series 295).
With a standard bar except 0-25mm and 0-1" model.
Supplied in fitted plastic case.
Technical Data
Accuracy: Refer to the list of specifications.
(excluding quantizing error for digital models)
Resolution*: 0.001mm or .00005″/0.001mm
Graduation**: 0.01mm, .001″ or .0001″
Flatness: 0.6ìm / .000024"
Display*: LCD
Battery*: SR44 (1 pc.), 938882
Battery life*: Approx. 1.2 years under normal use
Dust/Water protection level*: IP65
*Digital models **Analog models
Function of Digital Model
Origin-set, Zero-setting, Data hold, Data output, inch/mm
conversion (inch/mm models)
Alarm: Low voltage, Counting value composition error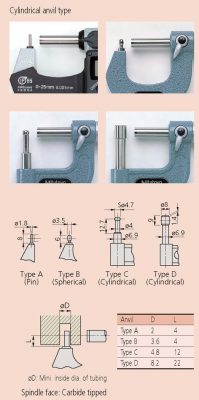 Metric
| | | | | | |
| --- | --- | --- | --- | --- | --- |
| Order Number | Range | Accuracy | Remarks | Descript | Mass |
| 115-302 | 0-25mm | ±3µm | Type A | – | 180g |
| 115-303 | 25-50mm | ±3µm | Type A | – | 240g |
| 115-308 | 0-25mm | ±3µm | Type B | Anvil type:C | 180g |
| 115-309 | 25-50mm | ±3µm | Type B | – | 240g |
| 115-315 | 0-25mm | ±3µm | Type C | – | 180g |
| 115-316 | 0-25mm | ±3µm | Type D | – | 180g |