Description
Round Multi Conductor Cable Cutting And Stripping Machine For Max 10MM OD RKENS RS-8500H
RS-8500H multi core cable stripping machine is specially for round multi-core cables .Cutting and stripping both outer jacket and inner insulation for two ends at same time. Cut, strip both ends. Cutting and stripping cable can be finished at same time. Fast speed and save labor.
Cut and strip cables.
For round multi-core cables
Cut and strip both outer jacket and inner insulation.
Can be English label and operation language
Works on 110V/220V 50HZ/60HZ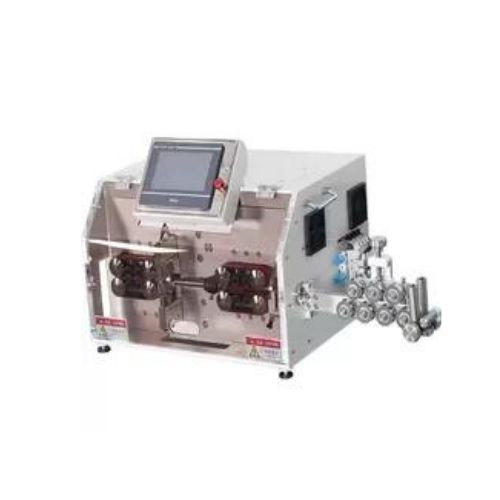 Features:
1. Touch panel 7 inch LCD display
2. Length can be amended easily . Accurate
3. Unique appearance.
4. Cut and strip both jacket and insulation.
Specification
| | |
| --- | --- |
| Model | RS-8500H multi-core cables cable cutting and stripping machine |
| Power supply | 220V/110V 50HZ/60HZ |
| Available wires | Cable. PVC cable, multi core cable, and more |
| Cable size | Within 10MM |
| Cut length | 0.1-99999.9mm |
| Outer jacket strip length | 10-120mm for front end, 10-120mm for rear end |
| Inner insulation strip length | 1-120mm for front end, 1-80 for rear end |
| Window strip | can be customized |
| Cutting tolerance | Within 0.002*Length |
| Standard conductor tube | |
| Efficiency | 2200pcs/h , and 800pcs/h for multi core cable. Depends on length, cable size |
| Drive mode | 16 wheels driving |
| Wire feeding mode | Belt feeding, no pressing mark on cable |
| Note | Can be customized for special cable |