Description
Auto wire cutting stripping and double-end tinning machine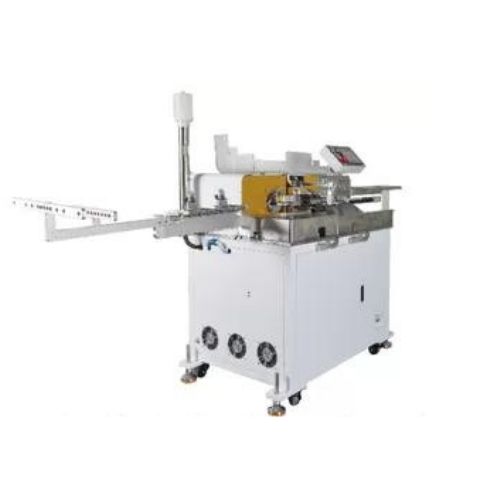 Intro:
RS-5508G is full automatic wire cutting, stripping and tinning machine. It can cut, strip, twist and tin wires at fast speed.
Usage: Cutting, One -end stripping, two-end stripping, two-ends twisting, one -end tinning, two-ends tinning.
It is servo motor type machine. High Accuracy.
Suitable:
This wire cutting stripping tinning machine works for stranded electric wire, double-core flat ribbon cable.
Features:
1. LCD touch scree control, Including: cut length, strip length, twist length, twist tightness,etc
2. 7 inch operating touch screeen
3.SMD cylinder
4. Omron temperature controller
5. Servo motor MITSUBISHI
Specification
| | |
| --- | --- |
| Function |  Full automatic cutting full stripping, tin dipping |
| Power |  AV 220V 50/60Hz |
| Usage |  Cut, Strip, Twist and double-end tinning |
| Production rate |  8000~12000pcs depend on the wire length |
| Applicable wire |  AWG32-AWG10 |
| Cutting length |  10-650mm |
| Cut tolerance |  0.2+-0.02*L |
| Stripping Length |  0.5-8mm |
| Twist length |  3~9mm |
| Tinning length |  0.5~9mm |
| Size |  800x600x1000mm |
| Weight |  350kg |