Since the 7352A / 7352E measures 2-channel signals completely independently with a twin AD converter, it can support high-speed measurement, synchronous measurement of different functions, and multi-channel measurement by systematization.
Ach has basic measurement functions such as DC voltage / current, AC voltage / current, resistance, frequency, etc., and Bch has DC voltage / current, AC current, temperature measurement functions, so synchronous measurement of Ach / Bch and It contributes to the improvement of throughput by simultaneous measurement of different functions of Ach / Bch. In addition, since the dynamic range of current measurement has been greatly improved, it is possible to measure large currents from minute currents (10pA resolution) to 10A.
The 7352A is equipped with an RS-232 interface as standard in addition to the USB and GPIB interfaces for R & D departments and line use. The 7352E is equipped with a USB interface as standard, enabling low-cost system construction.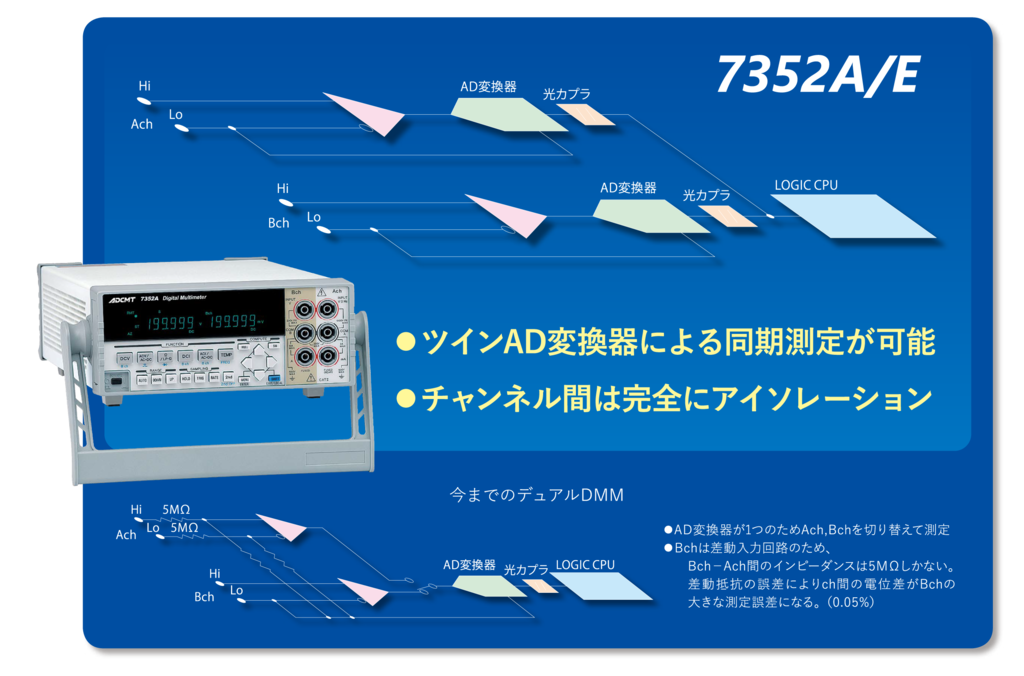 Completely independent 2-input twin AD converter that creates a new measurement environment
More than double the throughput of conventional Ach and Bch synchronous measurement
High dynamic range of 5½ digits for both Ach and Bch
The current measurement range has been greatly expanded, and simultaneous measurement with voltage and temperature is possible.
Ach: 10 pA to 2 A
Bch: 100 μA to 10 A
Various interfaces
7352A: USB, GP-IB, RS-232
7352E: USB